Why Choose GoSimpleSolar?
At GoSimpleSolar, we pride ourselves on providing customers the most accurate, up to date information that the solar industry has to offer. We take our time to understand all aspects of the solar industry by leaving no stone unturned. We have pinpointed industry standard information that leads to misrepresentation of your future solar system's energy production and/ or financial returns. Our goal is to eliminate these issues, and in turn provide you with the most accurate financial return data and energy production estimates on the market. See the above links for information on key points relating to our discoveries.
Most Bay Area solar installers assume a 6.7% annual increase in PG&E electric rates over time. GoSimpleSolar uses 5.0%.
Here's why:
Over the past 10 years, annual PG&E electric rate increase has tapered from the traditionally accepted 6.7% annual rise. Using documented PG&E data available here, GoSimpleSolar determined the percent increase of rates in each tier over the past 10 years. This increase has been most prevalent in the higher cost Tier 3 and Tier 4 rates. Because most GoSimpleSolar clients incur most of their excessive charges from these higher rates, we have calculated a weighted average annual rate increase of 5.0%.

How does this affect your proposal?
We use this accurate, relevant information in our proposal process because the percent rate increase is a crucial element in determining long-term savings and other financial return information for your project. Using a decreased number slightly lengthens proposed payback period and minutely decreases the Investment Rate of Return (IRR) associated with your project, among other things. While other solar installers are inflating your expected returns, GoSimpleSolar strives to provide the most accurate, honest, up to date information in all aspects of our business so that you are satisfied with the long term results of your solar installation.
Looking into the Future
In late 2014, the California Public Utilities Commission approved rate hikes for 2015-16. It was reported by the CPUC that PG&E rate payers could expect an increase of 4.57% in 2015 and 5% in 2016.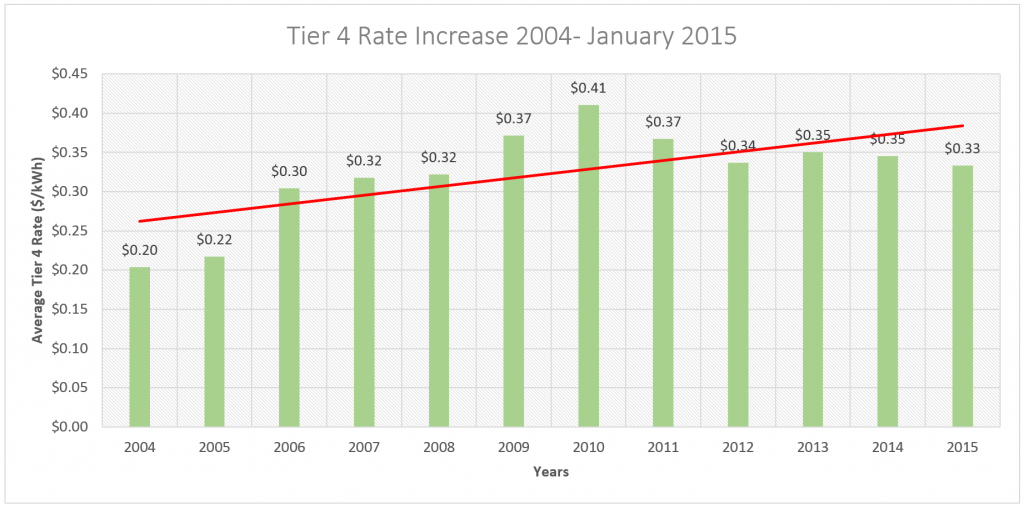 Nearly all ratepayers are currently paying greater than 50% more for the same amount of electricity in 2015 compared to 2004. This rate of increase is expected to continue into the future and is visualized by the chart below. This "Cost of Doing Nothing" chart is generated in our proposal with information corresponding to your specific project.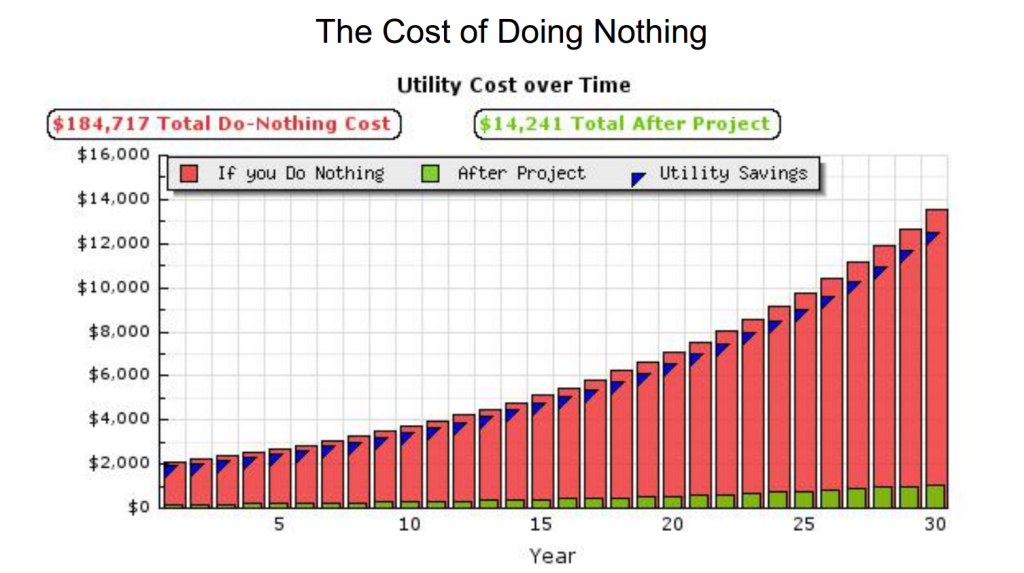 GoSimpleSolar Energy Production Modelling
Throughout the solar industry, it is common to receive overrated energy production estimates. Those that install solar with these misleading estimates often do not receive the full financial return potential that solar could provide. GoSimpleSolar provides prospective clients with the most accurate modelling of their proposed solar system's production via unique, state of the art technology and software.
Predicting Available Solar Access Onsite
GoSimpleSolar uses the patented Solmetric SunEye-210 – the world-leading shade measurement tool for solar site assessment. This hand-held electronic tool assesses the available solar energy by day, month, and year with the press of a button by measuring the shading patterns of a particular site. We are not astronomers, but with the SunEye-210, we are able to understand how the sun will interact with your future solar array and provide you with an accurate production estimation based on the tool's data.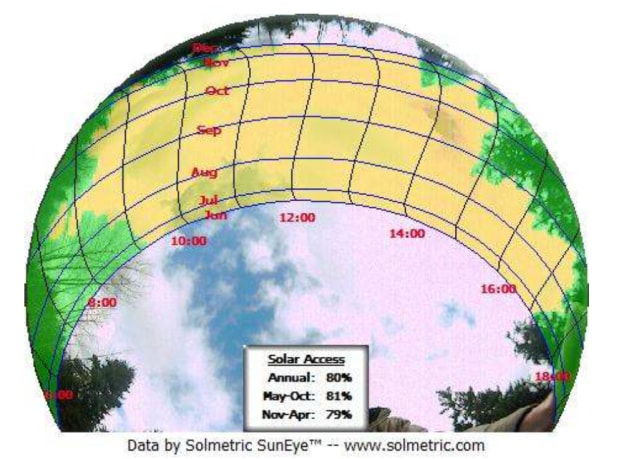 Utilizing Shading Data in Conjuction with Industry Leading Software
A crucial element that is necessary to size photovoltaic systems appropriately is software. GoSimpleSolar uses Energy Periscope, an industry leading energy project evaluation & sales management program, to appropriately size systems to individual clients' needs. Using Energy Periscope's Smart Sizing optimization engine in conjunction with the SunEye-210's shading data, production estimates have proven to be extremely accurate when compared to completed project production data.
Our Process
Contractor Comparison Checklist
100% Business Integrity in Design and Installation and
Continued Customer Engagement Post Project
Our process is designed to make your transition to energy independence as simple as possible:
1. Online Quote Request
Filling out the online quote request provides us with all of the information needed to estimate the cost and savings of your solar system. If you have just submitted a quote request, we have received your data and have started work on your solar system.
2. The Proposal
Once the quote request has been received, we meticulously assess your energy consumption and available installation space with satellite pictures. In this way we design a solar system that meets your desired financial goal and generate a proposal for your review.
3. Site Visit
During the site visit, we climb on your roof and take detailed measurements to confirm the available space that we estimated for the proposal. At this time we also take precise shading pictures to determine how much sunlight your roof gets throughout the year. This information gets fed back into our software to generate accurate financial projections of the electricity generation of your solar system.
4. Installation
Once the contract has been signed we take care of everything from submitting the plans to the city for approval, ordering the parts, installing the system, and submitting PG&E applications. From the moment the contract is signed, the installation is typically completed within the month and actual install time on your home is usually four to five days.
5. Final Commissioning
Upon project completion, we will work with PG&E to complete the Net Energy Metering (NEM) application, providing you with hassle free grid connectivity for your new solar system. Also, we'll perform our unique "Project Performance Verification" of your system to verify your system's performance to our promised standard- long before your first post-solar electric bill arrives in the mail.
6. Live Monitoring
Live monitoring allows a customer and contractor to see real time solar PV production and performance from a solar PV system. Monitoring software can also generate daily reporting emails and other such data if desired. If there happens to be a solar system outage for any reason, the monitoring software will report it to us (we'll tend to it immediately) and to you if you've opted into the monitoring emails. If you decide to opt out of the live monitoring option, you'll be able to monitor your systems operation via an inverter display. We're always just a phone call away!
Licensed Roofers and Licensed Electricians
Solar panels are secured to your roof rafters to prevent them from flying off during storms. This is an intensive process that can lead to many headaches if not done right the first time. That's why we use a licensed roofer that guarantees all penetrations for life. The last thing you need is a leaking roof. All electric work is performed by a licensed electrician, because when working with high voltage, a licensed electrician is the only proper tradesman to perform the work.
Mike Soberanes, Electrical Contractor
Mike Soberanes is the President and founder of Micor Elecric (CA License # C10 613167). He has been taking pride in this family owned business for 25 years. Mike personally oversees every job and treats each home or place of business as if it were his own. His focus is on 100% customer satisfaction, like the rest of the Team at Semper Fidelis Construction, Inc/GoSimpleSolar.
Frank Munroe, Roofing Contractor
Frank Munroe founded California Roofing in 1984 (CSLB C-39, 465765). He is a 4th generation roofer and customer service is the driving force behind this family run company with a staff of quality employees, several of whom have been with the company for over 15 years. Frank is an on the job boss who oversees each project.
Project Performance Verification Testing
Upon project completion, unlike our competitors, we'll provide you documentation of the solar systems output and performance as designed in our estimate. We'll do this through a nationally recognized third party verification test. See the example below.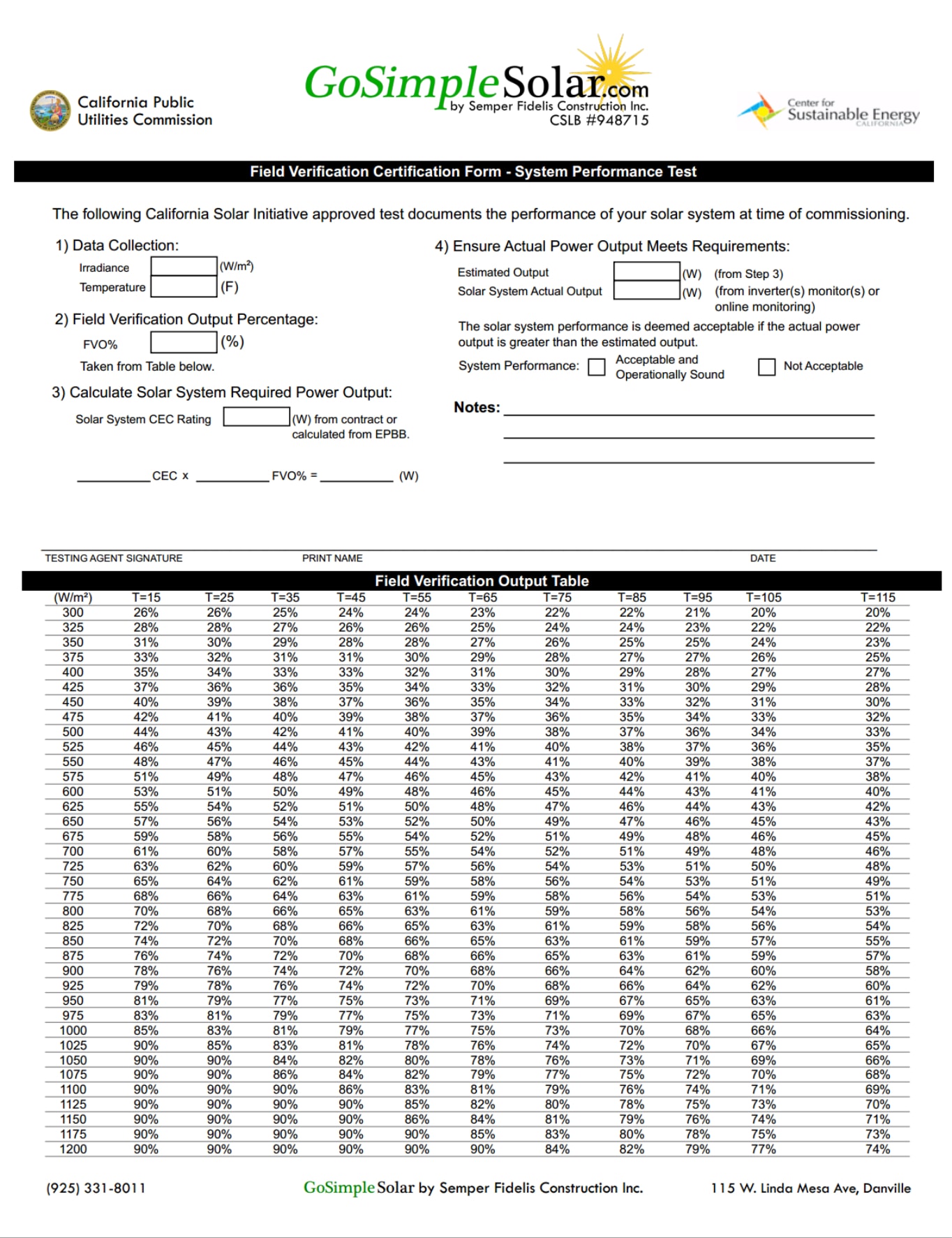 Our Warranty
Here is our current Sunshine Warranty: