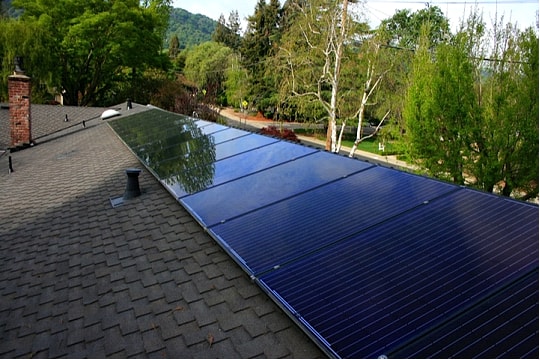 "A Customer's Perspective"
By Mark Becker, GoSimpleSolar
Originally printed in ————–
Milestone: As of press time, California has surpassed over 200,000 solar PV project installations
The recurring theme of this column has been that the decision to "go solar" has been primarily financially driven — safe and highly reliable financial return from a safe and reliable investment, considering of course, a properly installed project, with quality field-proven products.
Below I let Alan, one of our customers, do the writing. The details of his solar success were originally sent to me as an informative email. Immediately I recognized the value of what he said, and asked him for his blessing to use his words for this article. The goal of what he said is to inform you about his success story and the process by which he achieved this financial success.
We entertained quotes from four different solar installation companies. While GoSimpleSolar was not the lowest cost quoted – the price was very competitive and we felt it represented the best overall 'value.'

That value decision was based upon several criteria. We had a strong degree of confidence that Mark was really interested in educating us about the total purchase – to include the proper sizing for our particular needs, the best orientation and layout to maximize the efficiency of our particular orientation to sunlight, and the best manufacturers of the components. He was professional and low pressure.

American made – We were pleased to be placing American made solar panels on our roof from SolarWorld, and my wife liked the all black aesthetic of the panels we purchased. The Enphase micro-inverters gave us the added benefit of visibility of the kilowatt production of each of the 16 panels we installed and we were excited about Enphase's online 24/7 real-time interface to show how much electricity our panels are producing. The Enphase interface lets you see solar production by the day, week, month, or year.

Beat expectations – Our system outperformed Mark's benchmark expectations of kilowatt production in the first year by 18%. Our system offset approximately 85% of our annual electricity costs. Our year-end true-up bill from PG&E was $237.

Our total electric outlay to PG&E pre-solar for 12 months was $1760, so we saved approximately $1523 in year one. My principal and interest on the loan at 2.8% fixed for 12 months is $108/month or $1296/year.

So we have pulled off what nobody thought was possible and what I thought we couldn't do – which was to go cash positive in year one based on the low interest rate of 2.8% which is rolled into our 15-year fixed mortgage.

Plug-in Prius – in late 2013 I purchased a new Toyota Plug-in Prius. In addition to Federal and State tax incentives that reduce the net cost of the purchase price, having a partial electric car, Mark informed me that I could go to PG&E and qualify for a different rate plan that further reduces our cost per kilowatt and enables me to charge my car for a kilowatt rate that is below Tier 1 from PG&E. This essentially enables me to drive in the electric mode for virtually free for the first 11 miles I travel each day.

Mark and Bob have been true professionals throughout the entire process from the initial sales presentation, to further education, and are always there to field any emails or phone calls with questions post sale.

–Alan, GoSimpleSolar Residential Customer
What is the take away of Alan's quote? A homeowner who is passionate about saving money. Recognition of what is the lowest long-term cost of ownership versus the lowest initial cost. An engaged sales process with a tailored approach to determine customer's needs. The strive for efficiency to couple with solar PV. Consultation on navigating the financing options that best fit the customer's financial circumstances. Continuing education after the sale is complete. The advantage of doing business with a company that has a brick and mortar place of business so the customer can see the products and meet the installers before purchasing decisions of this magnitude are made.
Taking and executing the right approach should be the baseline from which all businesses should start.

Mark Becker is the President of GoSimpleSolar, by Semper Fidelis Construction Inc, a Danville based Solar Installation Firm (License 948715). GoSimpleSolar can be reached at 925.331.8011. Visit GoSimpleSolar's NEW and larger showroom at 100 Railroad Avenue, Suite B, Danville (behind Pete's Brass Rail) and receive a $500 discount on your solar system. Go to www.GoSimpleSolar.com for a free quote, or email info@GoSimpleSolar.com